Who are we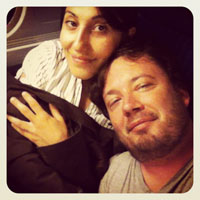 EJT-Labo was created in 2009 by Étienne Jaxel-Truer, author and producer and Eminé Seker. The studio is a farm from the 18th century, located in the center of a small boculic town in Moselle : Saint-Quirin. It is present as well in the cities of Strasbourg and Lyon.
At EJT-Labo we create and produce interactive works, educational games and make 2D, 3D as well as 3D real time animation.
Furthermore we develop, produce and edit projects under the label Promenons-nous dans les bois, puting the emphasis on inovative writings and animation films.
Today we multifaceted, using all types of media : cinema, television, publishing and digital technologies… but also in real life : scenographies, exhibitions, conferences and educational tools.
Our friends
Étienne Jaxel-Truer is also the co-founder and president of the association De l'écriture à l'image which helps authors attracted by collective work to write and develop their projects within the scope of writing camps (lasting one month). The assiociation offers short and really technical formations to guide media professionals along their journey.

The studio and the association supports the festival Chacun son court (Strasbourg)whos diffusion and promotion work is based on emerging creations.
EJT-Labo is a member of the Association des Producteurs Audiovisuels du Grand-Est APAGE and Étienne Jaxel-Truer is currently its secretary.

EJT-labo is also a member of the PXN association.
That's how it is at home!